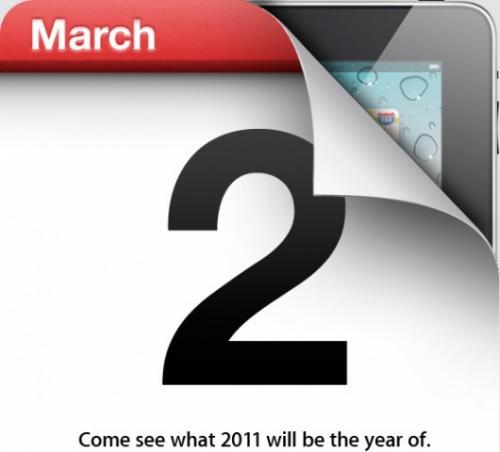 Its official! The 2nd of March is going to be the unveiling of the new iPad. Apple have announced that on their media event will be in San Francisco, with the tag line, "Come see what 2011 will be the year of".
This of course means they are more then likely going to release details of products other then the iPad. At best guess I think they will be the following;
- iPad 2 (Of course, their is a dam picture of it in the press release...)
- iOS 4.3 to be released on the same day, hopefully, maybe even a preview of iOS 5 probably for release in June when the iPhone 5 is due to be announced.
- New service! Its rumoured that Apple are creating positions in their bricks and mortar stores for business support. Its likely to be Apple Genius's that answer support calls from businesses signed upto the scheme, as well as visit sites for installs and repairs. Current Apple Genius's can't answer phone support or support off site.
- More of OS X Lion. It wont be the release, as Apple have already said that it wont be released until the summer, and the beta isn't even out yet.
- MacBook Pro refresh. Lighter, more powerful, Sandy Bridge chipset, Intel Graphics, and Light Peak ports, apparently renamed "Thunderbolt".
- White iPhone 4. Come on Apple, its about time!!
- Something to do with MobileMe. Either new services, and or making it free.
Those are my guesses. Would love to see something about the mini iPhone, but that is more then likely going to be announced when the iPhone 5 is announced, it just makes sense. I would imagine the media event will be streamed live over the internet, as long as you have a mac or iOS device. Sadly I am working late that day, therefore I wont be able to watch as my workplace is dell only God dam it!!!